This quarantine had been quite a blessing for my reading habits. I downloaded the app Libby, and thus read 40+ comics. So today I compiled ten of my favorite graphic novels and manga of 2020! (By the way, I only included series that I am either finished, or are up to date with to make the judging process more fair.) Without further ado, here is the list!
1. The Promised Neverland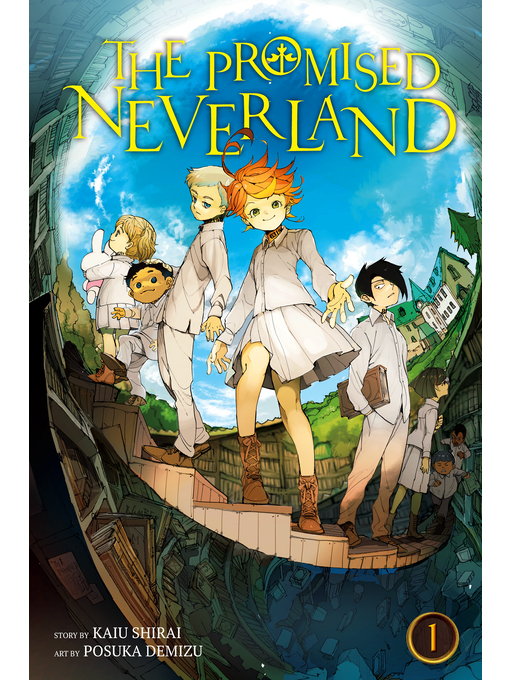 It's a manga series (volumes 1 through 17 available in English as of now.) Where do I even start with this one?! The Promised Neverland plot description made me think it was going to be a fun go lucky series about orphaned kids….BUT BOY WAS I WRONG! Here is the very brief synopsis that goodreads provides.
Emma, Norman and Ray are the brightest kids at the Grace Field House orphanage. And under the care of the woman they refer to as "Mom," all the kids have enjoyed a comfortable life. Good food, clean clothes and the perfect environment to learn—what more could an orphan ask for? One day, though, Emma and Norman uncover the dark truth of the outside world they are forbidden from seeing.
Reading this series has just been a wild ride full of tears, and joy…but mostly tears. The art is extremely expressive, and the characters are extremely unique. The antagonists, (which I will not spoil because I want you to experience the same shock I did) are evil, but for some reason I just can't hate them. This series completely changed my perception of the world…and the food chain. You have to give this one a read!
My Overall Rating: 9/10
Age Rating: 14+
TW: Violence, gore, blood
2. The Children Of The Whales
(The above cover is the second volume in the manga series.) Can we talk about the gorgeous cover! I will admit that I first started reading The Children Of The Whales because of how aesthetic it was. What can I say, I'm a sucker for pretty book covers. 😆
In a world covered by an endless sea of sand, there sails an island known as the Mud Whale. In its interior lies an ancient town, where the majority of its inhabitants are said to be "Marked," a double-edged trait that grants them supernatural abilities at the cost of an untimely death. Chakuro is the village archivist; young and curious, he spends his time documenting the discovery of newfound islands. But each one is like the rest—abandoned save for the remnants of those who lived there long ago.
For the first time in six months, another island crosses the horizon, so Chakuro and his friends join the scouting group. During the expedition, they find vestiges of an archaic civilization. And inside one of its crumbling remains, Chakuro discovers a girl who will change his destiny and the world inside the Mud Whale as he knows it.
The storyline is extremely creative, and is executed very well! The art is stunning, and is sort of a mix between Studio Ghibli and Card Captor Sakura. The characters are unique, and the antagonists aren't your basic 'I am evil,' villains if that makes sense. Overall, if you're looking for an adventurous and dreamy read, this one's for you!
Overall Review: 7.5/10
Age Rating: 14+
TW: violence, death, blood
3. Ao Haru Ride
Futaba Yoshioka used to be an attractive and popular middle-schooler—but ostracized by the girls. However, the only opinion that truly mattered to her was that of Kou Tanaka, a classmate with whom she shared a shelter from rain once, followed by quite a few other precious and significant memories. She even succeeded at making plans to meet with the quiet and innocent boy at the summer festival, but a simple misunderstanding, and Tanaka's subsequent disappearance, left her walking the halls of her school friendless. Fast forward to high school, and Futaba's world is soon turned upside down when the only boy she ever liked unexpectedly comes into her life once again—except he goes by the name of Kou Mabuchi now, and it is not his name alone that has gone through a sea change.
This series gave me early 2000s manga vibes and I am 100% here for it! The art is absolutely stunning, and very clean. With a lot of comic series, overtime the art quality begins to decrease. However, with Ao Haru Ride, that is surely not the case! The only con I have for this story is that the main character Futaba starts off as likable, but soon acts as though the world revolves around her. (Which to be fair, she is the 🌟 Main Character 🌟 so that is fairly reasonable.)
My Overall Review: 8/10
Age Rating: 12+
TW: Death
4. The Legend of Korra: Ruins of the Empire
(For those of you who don't know, the Legend Of Korra is a TV series that aired on nickelodeon, and is a continuation, or rather a spinoff of Avatar The Last Airbender. The comics take place right after the end of the show. The Ruins of the Empire Trilogy are issues 4 through 6 in comics.)
On the eve of its first elections, the Earth Kingdom finds its future endangered by its past. Even as Kuvira stands trial for her crimes, vestiges of her imperial ambitions threaten to undermine the nation's democratic hopes. But when Korra, Asami, Mako, and Bolin don't all see eye-to-eye as to the solution, drastic measures will be taken to halt a new march to war!
This trilogy was far better than its predecessor; Turf wars. The plot is very intriguing. It deals with brainwash, politics, and is overall very action packed! The art certainly did improve in this trilogy, which is always a plus side when reading comics. There's nothing worse then seeing art quality heavily decrease. The story is a bit more serious then the ATLA comics, but I feel like it's not fair to compare the two as they are quite different. Overall this was a quick, cool comic series that you should read if you are familiar with the Avatar Universe!
My Overall Rating: 9/10
Age Rating: 11+
TW: Violence
5. Lazaretto
Now although I only gave this one 3/5 stars on goodreads, it was just so incredibly impactful in the most disturbing way possible. That probably doesn't make sense, so let me explain my reasoning a bit more…
An outbreak at a small American college causes an entire dorm to be quarantined with the students inside, which leads to a violent new social hierarchy within.
When an American college quarantines an entire dorm of young adults, what could possibly go wrong? Everything! I felt like I re-read lord of the flies in grade school! The way the story and the art corelated was absolutely phenomenal. The art is messy, but so was the story. The twists and aggressive goriness were so surprising, (considering the fact that BOOM BOX! typically produces 'cuter' stories.) Overall, it was gory, intense, and definitely a realistic approach at what happens when there is a pandemic/epidemic. The only reason I put it at number 5 was because of the lasting impact it gave me. But maybe don't read this one during quarantine like I did. 😆
My Overall Rating: 6/10
Age Rating: 15+
TW: Death, suicide, violence, gore, blood
6. Fence
Sixteen-year-old Nicholas Cox is an outsider to the competitive fencing world. Filled with raw talent but lacking proper training, he signs up for a competition that puts him head-to-head with fencing prodigy Seiji Katayama…and on the road to the elite all-boys school Kings Row. A chance at a real team and a place to belong awaits him—if he can make the cut!
Everyone in the comic is absolutely stunningly gorgeous!! The art is impeccable, the plot however, is relatively average. Now although the plot isn't anything special, the execution was done really well! I found myself laughing out loud at times, and being incredibly intrigued by the sport. I've read a lot of sports manga and comics, but never one about fencing! There is also an incredibly diverse cast! Overall, Fence was a refreshing change of pace from regular sports comics, and totally lives up to the hype!
My Overall Review: 8/10
Age Rating: 13+
TW: Violence (I put a TW because it's definitely better to be safe than sorry.)
7. The Way Of The House Husband
The Way Of The House Husband was absolutely hilarious! The series currently has three volumes out in English. I love this manga series so much, and here's why…
Tatsu, an infamous and feared yakuza boss nicknamed "the Immortal Dragon", retires from crime to become househusband so that he can support Miku, his 'career woman' wife.
Firstly, everything Tatsu does is so unexpected as he looks so intimidating. From teaching other Yakuzas how to cook, to taking aerobics classes with retired women, he does it all! The only thing I didn't like was how after a while, the storyline started to get a bit repetitive. Nevertheless, it was really cool to see a househusband. This was definitely a unique and funny read that you should totally check out!
My Overall Rating: 8/10
Age Rating: 14+
8. The Witch Boy
In thirteen-year-old Aster's family, all the girls are raised to be witches, while boys grow up to be shapeshifters. Anyone who dares cross those lines is exiled. Unfortunately for Aster, he still hasn't shifted . . . and he's still fascinated by witchery, no matter how forbidden it might be.
The Witch Boy was so unique and cute! It's filled with diverse characters, and the storyline is just so interesting. (There are three volumes in the entire series as of now.) You will definitely find yourself rooting for Aster, and the friends he makes along the way. The characters are complex, which, in my opinion is hard to find in middle grade novels. The art is on the simpler side, but is done really nicely. And can we talk about a male witch, how cool is that?! The Witch Boy is a sweet coming of age story that is 100% worth the read for all ages!
My Overall Rating: 8/10
Age Rating: 9+
TW: Some scary images that might not be suitable for a younger audience
9. Lumberjanes
Yet another BOOM BOX! Studios comic makes it to my top ten list!
At Miss Qiunzilla Thiskwin Penniquiqul Thistle Crumpet's camp for hard-core lady-types, things are not what they seem. Three-eyed foxes. Secret caves. Anagrams. Luckily, Jo, April, Mal, Molly, and Ripley are five rad, butt-kicking best pals determined to have an awesome summer together… And they're not gonna let a magical quest or an array of supernatural critters get in their way!
Lumberjanes was so adorable. It's fast paced, adventurous, and filled with unique and diverse characters! (Which seems to be a reoccurring theme in the books I review, not that I'm complaining.😆) The people and creatures they discover are so interesting and the way the kids handle things is hilarious. The only downside to the series is that the art isn't that good, and the art style changes quite frequently. However, the series is great for elementary and middle school kids looking for a fun adventure to delve into!
My Overall Rating: 7.5/10
Age Rating: 7+
10. Heavy Vinyl
What really drew me to this comic was the cover. I will admit, I am a sucker for nice covers. The art style is gorgeous! The story however, failed to deliver. The essential concept of the story? Beautiful! The execution? Eh it was alright.
When Chris joins the staff at her local record store, she's surprised to find out that her co-workers share a secret: they're all members of a secret fight club that take on the patriarchy and fight crime!
At times I felt as though the whole fight club thing didn't make sense. How was it created? Why don't they just call the police? But since it's really all in good fun, I brushed those factors off and just tried to enjoy the adventure. It's thrilling, and overall just a super fun read! I mean, who doesn't want to see women kicking butt and fighting the patriarchy?
My Overall Rating: 7.5/10
Age Rating: 12+
TW: Some fighting
Please note that most of the synopsis came from goodreads, others came from myanimelist, and some I made myself.
That's a wrap!! Thank you so much for reading! What are your favorite comics/manga series?