Hiya! Today I'll be reviewing The Kids of Cattywampus Street, written by Lisa Jahn-Clough, and illustrated by Natalie Andrewson. I picked this one up because I had been looking for a whimsical book to read. So when I found this one, I just knew I had to pick it up. Not to mention that Lemony Snicket himself liked the novel! Anways, let's get into it!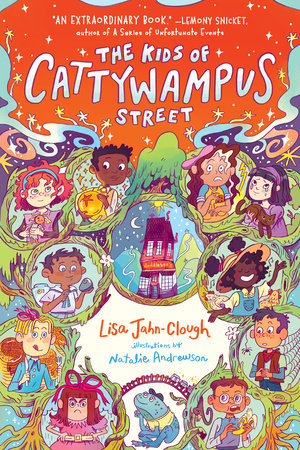 In this delightful chapter book filled with black-and-white pictures, you'll meet Jamal, Lindalee, Hans, Matteo, and others–the kids who live on Cattywampus Street, not far from the Waddlebee Toy Store. Each of the eleven chapters in this magical, mysterious, silly, scary, happy, and sometimes sad chapter book tells an utterly unforgettable tale about one of the kids. Whether it's about Jamal and his magic ball, which knows how to find him after its been stolen away; or Charlotta, who shrinks so small that she can fit inside her dollhouse; or Rodney, whose pet rock becomes the envy of all the kids on Cattywampus Street, here are stories sure to charm, captivate, and engage all readers of chapter books, even the most reluctant.
First let's talk about the plot. The Kids of Cattywampus Street promises wacky tales about children that live on Cattywampus Street, or somewhere near it. The stories are also said to have some sort of connection to a toy store called The WaddleBee's Toy Store. While the tales present in the book are bizarre, they don't necessarily tie into each other. I was hoping for the stories to be connected in some way, but that wasn't the case. Furthermore, the stories felt unoriginal, and already-done-before.
In addition, the characters had beautiful designs, but not all of them were likeable. There also wasn't much character development, nor were there any learning opportunities present for children.
The dialogue felt bland and tried too hard to be funny. For example, there was a typical mean kid and their 'sidekicks.' When a character was crying, the words 'Boo Hoo' were used to enunciate her sobbing. (I hope that makes sense!)
Moreover, I really struggled with the writing. It would always reveal the events that occurred before it happened. This left no space for the readers to predict or imagine what would happen next.
Fortunately, the illustrations were stunning! They were whimsical and vibrant, which I'm sure young readers will love.
Overall, I enjoyed my time with The Kids of Cattywampus Street. (Pun intended.) While I disliked the writing style, I adored how bizarre and vibrant the book was. This novel is perfect for kids transitioning from picture books, to chapter books!
Age Rating: 9 and up
TW: Some scenes might scare younger children
Final Rating: 6/10 or 3 stars
⭐⭐⭐
What is your favorite short story collection? I'd love to hear your thoughts! Have an amazing day!
| Instagram | Pinterest | Ko-fi |